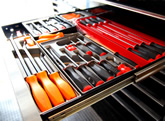 Every June we celebrate Father's Day. My Dad taught me how to clean out the garage at a young age. Now that I am a Professional Organizer, I look back and realize many of my skills were learned from my parents. This Father's Day, clean out the garage for your Dad or better yet, let Simply Organized do it for you (we have gift certificates too).
Your goals may be to park a car or two in your garage or at least get everything off the floor. Go ahead and set your goals before you start, this will help keep you motivated to finish. No matter what your goals are, the process is the same:
Step #1: Put on some music. This will help the process go faster and be more enjoyable.
Step #2: Pull everything out of the garage (hopefully it's a nice day). Put all "like" items together for example: all rakes and shovels in one area, all tools together and all auto cleaning supplies.
Step #3: Throw away anything that is broken or obviously unusable.
Step #4: Make a "donate" section for any of your items you have multiples of or you do not need or use anymore.
Step #5: You may have found some things that belong in the house or in a back yard shed. Put them to the side for now knowing you can put them away later. I find that if you leave the project at this point, you may get side tracked and not come back.
Step #6: If you do not have shelving or enough storage space to put your items back neat, invest in some vertical shelving units, wall cabinets or storage that hangs from your ceiling. If you purchase shelves that are not adjustable, make sure your items or storage bins are the right size to fit in the shelving (most large storage bins are 16.5 inches tall). You may also need clear plastic storage bins for your smaller items and a wall hanging unit for your yard tools. A peg board can be installed to hang your most used tools from and if you have room, a work bench/table is always a plus to have under your peg board. You can get these items at most home improvement stores.
Step #7: Most people use their garage to store other items as well like camping equipment, seasonal decorations or tables and chairs that get used a few times a year. Now would be a good time to decide if there is room in the garage for these items or if there is a better place to store them like the attic, basement or closet. If they are staying in the garage, place them on your garage shelving. Just make sure you label everything well and place items you use least up high and items you use most should be the easiest to access.
Step #8: Every item should have a "home". All of your rakes and shovels should go together with the rest of your yard equipment either hanging from the wall vertically or in a container where they are not falling over. Place smaller items in clear plastic bins (like the auto cleaning supplies in one, shop towels, bug sprays, etc.). If you have lots of tools, they should all be together in a tool box with like items sorted by drawer or bin. Small items like screws and nails should be sorted in a box or bin with compartment dividers so they are easy to find. After everything has a home, you are done!
Step #9: Hopefully, you now have room for at least one of your cars in your garage. Pull your car in and enjoy!