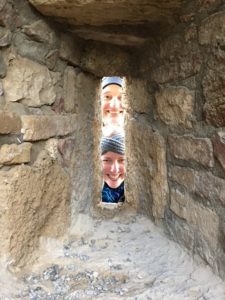 We just returned from the trip of a lifetime. My husband Tim and I went to Italy. We spent 2 days in Rome, 7 days in Florence and 1 day in Venice. Our friend moved to Florence a few months ago and we wanted to surprise her for her birthday by visiting her new home town. While we were away, we posted lots of photos of our trip on social media. Many of my friends commented how jealous they were or how they have always wanted to go on an amazing trip but never would be able to. I want to give you some tips so you can plan that trip of a lifetime. Never say never.
1. Come up with a budget and savings plan today. Give yourself 1 year (or whatever you need) to save the money so you don't feel guilty about spending while your trying to enjoy your vacation. Decide where you want to go and estimate at least $3000 for flights, hotels, food, etc.
2. Ask for time off from work ASAP. The quicker you ask, the better chance you have of getting the time.
3. Enlist the help of a travel agent. Travel agents know the best places for you to go, stay and tour guides while your there, train schedules, luggage rules, plus they save you loads of money. You do not pay for their services, they get a percentage from the airlines and hotels. The best travel agent I know is Melissa IntVeldt with My Traveling Panda. You can contact her at melissa@mytravelingpanda.com.
4. Now that you have your trip booked and are saving towards it, come up with your home back up team. You will want people to help you with child care, pet care, house sitting (getting your mail) and in my case running Simply Organized while I was gone.
5. When you are within a week of your trip, check weather at your destination so you can plan ahead with packing the right clothes. We had to buy water proof jackets for Florence and I was so glad we had them. Get a converter for your electronics and find out if you need an international phone plan if you are going over seas. Schedule your dates for out of office messages on your e-mail and voice mail. Figure out how you will get to the airport (parking vs. Uber).
6. Go on your trip of a lifetime! I could spend days telling you what to pack, how to pack light, or how to get the most time out of each day but instead I want you to experience your trip. Part of the fun of a new destination is the little hiccups, the detours and figuring it out.
Please call me if you want any help: Heather 404-825-2105 or heather@simplyorganizedyou.com