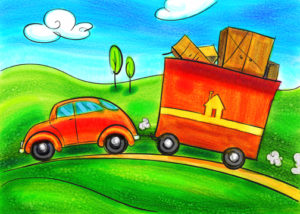 Are you planning to move any time in the next 20 years? This blog post is for you! We recently helped my mother-in-law (Tine – Dutch for Tina) move from Texas to North Carolina. She has been living in Houston for 23 years and lost her husband 15 years ago; she's never moved or sold a home by herself.
Moving is the 3rd most stressful thing a person can experience. You are often changing your zip code which means getting used to a new area, making new friends, finding new doctors and getting a new driver's license (yuck). It does not have to be a terrible experience; follow these steps to make it easier:
Step 1: Decide where you want to live?
Do you want to move into a smaller space? Maybe a condo, apartment or independent living is right for you. Is the yard work too much or the stairs to get to your bedroom? A one-level ranch may be your perfect fit.
Tine decided to come back East and live closer to family. She did not want to be responsible for a house or yard anymore and she is physically and mentally fit. The best option for her was an apartment.
Step 2: What do you want to take with you?
Moving is the perfect time to purge! If you are moving into a smaller space, you can't take everything. Stick to the necessities and irreplaceable keepsakes such as photos. Go through each room and make a list of your "must have's" and your "really wants".
I recommended 4-6 of each dish, glass, a few pots and pans, one of each used small appliance (coffee pot), the clothing you wear, the furniture that will fit in your new space, framed photos and art, linens, towels, toiletries, cleaning supplies, electronics, etc.
Don't worry, anything you don't take can be donated or maybe even sold.
Step 3:Plan ahead for the move: Get moving and packing quotes ahead of time.
Movers will come to your home and give you a free quote. I highly recommend getting at least 2-3. You may find that storage pods are a better fit or renting a truck yourself.
We decided to hire movers and rent a truck that my husband and his brother drove from TX to NC. This is not the best option for everyone but they wanted a bro road trip and we were able to save Tine some money on a cross-country move. I packed her belongings for her 2 days before the move, the movers loaded everything onto a U-Haul we rented, the guys drove to North Carolina and another team of movers unloaded at her new apt. I also hired unpackers for her so she could be completely ready to spend the night in her new place.
Step 4: Estate sale or donation pick up
Anything you don't want or need anymore is much appreciated by charities. There are many who will pick up your house hold items for free and give you a letter for your taxes. Go to www.donationtown.org to find a charity near you. Would you rather try to sell your items? Contact some estate sale companies in your area and get them to come give you an estimate (estatesales.net will have a list). Most have minimum requirements and take a % of profit. If you are living in your home, there are some online estate sale options too: try max sold or everything but the house.
For Tine's house, we went with an auction clean out company. Her HOA does not allow estate sales so this was a good option for her. What they did not take, we had a charity pick up.
Step 5: Getting your home ready to sell
You may have to do this step while you are still living in your current home. If so, just move this to step 1 or 2. The key in this day and age is to make your home as neutral as possible for the buyer. You will want to start with a budget; how much can you afford to put into the home without losing too much. The most important thing is to fix anything that needs an obvious repair: leaky roof, water stains in the ceiling, stains or bad odors in the carpet, etc.
For Tine's house, I interviewed and hired a roofer, painter and floor company to give the house a fresher look without breaking the bank.
For detailed tips see my blog: www.simplyorganizedyou.com/gettingyourhomereadytosell
You will also want to hire a reputable real estate agent. I interviewed 3 in Texas and chose her neighbor who is experienced, knowledgeable about the neighborhood and can keep an eye on the house for us.
Step 6: Enjoy your new home
After you have done all this hard work, made your repairs, sold your house, moved into your new place and unpacked, it's time to sit back and relax! Yes it's hard to make big changes in your life but you have your future to look forward to. Life is not about the stuff you had to part with, it's about the memories you have made and the new ones you are going to make.
Need help with project management, packing, unpacking, pre-staging or more? Contact us at 404-825-2105 or heather@simplyorganizedyou.com