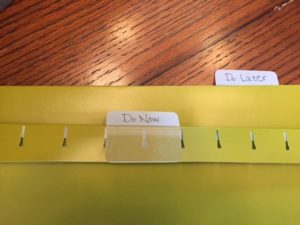 This is a photo of file folders taken at a client's home recently. They had a file box and inside one file labeled "Do Now" and another "Do Later". After laughing for several minutes and guessing what would be in the folders, we discovered documents from 3 years ago in both. I see this daily in my work with clients.
It is clear that they were (and still are) trying to come up with a system, tackle their mountains of papers and simplify their lives. The problem is we all tend to put off the things we do not want to do. My favorite part of this filing system is when is "now" and when is "later"? If you are truly going to tackle something "now" there is no need to create a file for it right?
When it comes to paper and especially mail, go through it immediately. The moment you bring it in your house (or in the garage) have trash, shred and bins or folders ready.
Throw away your junk mail – do not keep it
Shred any items you don't need that have a social security, bank account or credit card number on them.
Put the rest in bins or folders marked for each family member or in order of importance

Weekly = bills to pay, rsvp, permission slips, etc.
Monthly = items to file

Have alarms set on your phone/ calendar to empty your bins every week and do it!
The longer you put things off, the more stressful and overwhelming they become. Do it now, check it off your list, sleep better!
If you need our help tackling something you've been putting off, call us at 404-825-2105 or email heather@simplyorganizedyou.com.