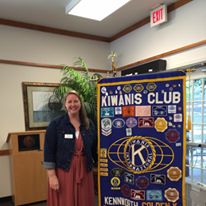 It seems like October has been senior month for Simply Organized. I gave three presentations to 55 and older groups and also had an elder care panel at our NAPO meeting. Not only did I give a lot of advice, I learned a ton too!
I usually tell people what to keep, what to donate, what is worth reselling and help with creative use of space in their new smaller home.  I'm usually the bearer of bad news when it comes to value of "antiques" and letting people know that most of their adult children do not want all of their stuff. I have zero attachment to my clients belongings so it is much easier for me and sometimes comes across as very unsentimental.
During our elder care panel, one of our speakers, Valerie Darling from Home Care Matters told us that most seniors want to leave their legacy. It's important to them to know their memories will be passed on. I needed to be reminded of this so I will now use more patience and compassion with my senior clients.
Owner of Life After Loss, Doris Vaughans, taught us that older people are more emotionally strong than we think. They have experienced a lot in their life time and have handled more than we know. We should not assume that they can't get through a loss or a move. We should also give everyone the time they need to grieve and adjust to their new surroundings; it takes some more than others.
The estate attorney on our panel, Meridith Bush, made us all more aware of estate planning. Tell someone you trust where you bank, prepare a notebook (or two) with account information, your will, your living will wishes and any other documentation that will be needed if you are in an accident or in preparation for your loved ones. Don't assume someone knows your passwords or can find your safe deposit key.
If you are planning to downsize in the next 5-10 years, if you are planning to move, if you need help with home health care, grief counseling, estate planning, packing, unpacking, de-cluttering or anything else, please contact us. We have many resources to help solve most of your problems. 404-825-2105 or heather@simplyorganizedyou.com