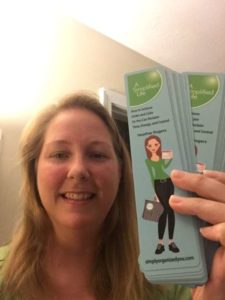 As you have heard, I wrote my first book this year and it should be printed and in my hands in a week or so. I have been very fortunate to have my book pre viewed and reviewed by some amazing people including other published authors, bloggers and organizing gurus.
Here is a look at a few of the reviews & testimonials of A Simplified Life:
The Berger Bungalow
http://www.thebergerbungalow.com/2016/08/a-simplified-life-book-review.html
Have you ever found yourself late to a meeting, or event because you cannot find your keys? Have you ever been late on filing your taxes because you have lost all of your paperwork? If you answered yes to this question, or if you are moving, and/or find yourself unorganized and stressed out, you need to read A Simplified Life! The Author, Heather Rogers researched many career paths before deciding to become a professional organizer. She founded Simply Organized, a Local Atlanta company with the goal to simplify the lives of her clients, and ultimately save them time, money and unnecessary stress. Does this sound like something that everyone needs? I say yes!
I consider myself to be a pretty organized person, so when Heather sent me the book to read, I didn't know if I would benefit from it, or not. I started to read it and by the second chapter, I was hooked! Ian and I are in the process of renovating our new house and I feel out of control and so unorganized between everything I need to do before we move in (taking care of two houses is hard work)! In her book, I read: "According to The Daily Mail, "Over the course of our lifetime, we will spend a total of 3,680 hours or 153 days searching for misplaced items. The research found we lose up to nine items everyday, or 198,743 in a lifetime. Phones keys, sunglasses, and paperwork top the list." The time spent (or lost) searching for these items can never be regained. Imagine how this lost time could be better spent leaving early to arrive at your intended destination on time and less frazzled, enjoying quality time with loved ones, generating revenue in your business, relaxing, exercising, thinking, or creating a masterpiece. Wouldn't you rather spend (or invest) your valuable 3,680 hours doing these activities instead of searching for misplaced items?" This shocked me and really put everything into perspective. I NEEDED to read this book to help me get it together to prevent losing valuable time during this entire process, and after reading it, I realized that I really wasn't as organized as I thought I was. Sure, I write down my appointments and events, and am never late, but I've realized there is so much more to becoming organized than I initially thought. Reading this book really helped me create a plan for going into our new house fully organized!
A Simplified Life is an extremely fun, and easy read. It is split up into 12 Chapters and also has an introduction, organizing tips, resources, answers to questions you've been looking for, and a spot for learning more about the author! I absolutely loved reading her stories about working with real clients. I related to so much of it, and found it extremely interesting. My favorite part in the book was most definitely the section about moving. I have been using her tip on decluttering my home before packing, something I was not doing from the start. It will really help the unpacking process, I think.
One thing this book has opened my eyes to is hiring a professional organizer. I am one of those people that cleans before the housekeeper comes, so I know that I would clean up before a professional organizer came. That is a big no-no, according to the book. I've realized that hiring someone to help isn't a bad thing; I am no less of a wife if I ever do need help organizing. Before this read, I never would have considered hiring anyone to help. When people came over to my house, I would stuff my junk in a drawer and go on with my day. Now, I will definitely think twice about that. I honestly believe that everyone will benefit from reading A Simplified Life. If you feel like you are pretty organized like I did, you will be surprised with how much you will learn from this read. If you know you are unorganized, you should definitely read this and also think about hiring a professional organizer, like Heather!
Judith Kolberg
The title says it all. Rogers' book does lead to "A Simplified Life." You'll find yourself in her many stories of disorganization, and your way out of disorganization in her simple, calm, orderly advice. – Judith Kolberg, Author, "Getting Organized in the Era of Endless", www.fileheads.net
Ellen Faye
Professional Organizer Heather Rogers does a superb job of helping the reader understand the costs of being disorganized, what it's like to get professional help, and how to maintain an organized life that works. She compassionately, supportively, and informatively gives the reader hope that they too can finally get organized.
Ellen Faye – President, National Association of Professional Organizers (NAPO)
Steve Beecham
Getting organized is critical to happiness and making money. When I speak to sales professionals I talk about creating new habits and getting things in the right place is a habit we all need. I think you will enjoy this easy approach to simplifying your life.
Steve Beecham – Author of Bass Ackwards: The Power of Helping Without Hustling
If you need help with getting organized, staying organized or time management, call us at 404-825-2105 or send me an e-mail heather@simplyorganizedyou.com