Heather Rogers is a professional organizer, owner of Simply Organized and author of "A Simplified Life". She and her team specialize in helping people decrease the clutter in their lives, create a more organized environment, manage their time more effectively, and maintain calm in the midst of a busy life. Her clients include professionals and entrepreneurs who work from home, anyone who is getting their home ready to sell, individuals and families who need help packing or unpacking, and busy professionals and families who need assistance with time management and space maintenance coaching.
A Georgia native, Heather has worked in the insurance and financial services industries, as well as in customer service and sales. She has a passion for helping people and a keen sense of spatial planning and organizing. Ironically, she earned a bachelor's degree in risk management from the University of Georgia. (Isn't being disorganized one of the greatest risks in life?) She is the Georgia Chapter Professional Development Director of the National Association of Professional Organizers (NAPO) and frequently speaks to groups about the benefits of time management and the costs of disorganization.

"Participants of both the staff training and public programs gained new knowledge and tips to better manage time, declutter and organize stuff and adapt healthier lifestyle choices. Emphasis was placed on redirecting focus on the people and areas of our lives that matter most."
– Jennifer Kovac"Heather fielded a wide variety of questions on work-life balance, meal preparation and decluttering our minds and spaces. She is well-informed, open-minded and highly proficient on all areas of organization. So many of us rely on technology to navigate each day, and Heather was well-versed on helpful apps and websites to declutter and streamline our lives."
– Attendee Comment

A Simplified Life
Heather will teach your group the 7 steps to Simplifying which include decluttering, organizing and systemizing your life.Simply Fabulous
This is a class all about time management. Heather has figured out a way to make time management fun!

---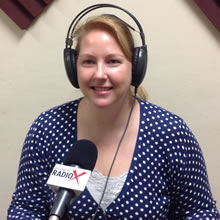 If you have a Mom's Club, Group Meeting, Sales Meeting or any gathering you need a speaker for, please
Contact
Simply Organized
to check availability.
---
---
WSB Interview with Belinda Skelton
---
That's my Biz
Watch Heather on the TV Show BizLinks.TV

 

Reviews for Simply Organized as a Speaker
Description of Work:

Heather hosted three informative and insightful presentations for the Forsyth County Public Library system in the past year. One of the programs was presented to library staff, consisting of 150+ employees and focused on work life balance and time management. The other two programs were designed for public programming focused on getting organized, simplifying our lifestyle and getting our families school-ready.

Member Comments:

Participants of both the staff training and public programs gained new knowledge and tips to better manage time, declutter and organize stuff and adapt healthier lifestyle choices. Emphasis was placed on redirecting focus on the people and areas of our lives that matter most.

Heather introduced creative and efficient ways to transform our spaces both at work and home to complement our busy lives. Using common household items, Heather shared new and innovative ways to repurpose these items to organize all our stuff. During the staff training segment, Heather fielded a wide variety of questions on work-life balance, meal preparation and decluttering our minds and spaces. She is well-informed, open-minded and highly proficient on all areas of organization. So many of us rely on technology to navigate each day, and Heather was well-versed on helpful apps and websites to declutter and streamline our lives.

We will definitely invite Heather back again to share her knowledge and empower our community to transform their lives for more organized, simplified and healthier living!

Overall A
Price A
Quality A
Responsiveness A
Punctuality A
Professionalism A

Jennifer Kovac
Information Services Supervisor
Cumming Library
Forsyth County Public Library
(678)513-9393
www.forsythpl.org
Heather,
Just wanted to thank you again for an awesome program. Everyone loved you and the information.

What the participants liked about Heather's "Simplify Your Life" program:

"All the tips."
"Loved the items she brought for us to see."
"Helpful tips."
"Demonstration products."
"Organizing tips and websites."
"This program was great for young families."
"Good ideas, Everything!"
"Very informative and good."
"Loved this instructor."

Angela Glowcheski
Branch Manager, Spout Springs Library
Hall County Library System
770-532-3311, ext. 198
aglowcheski@hallcountylibrary.org