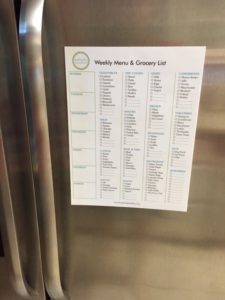 One of the most time consuming and stressful things in our lives is food. The planning, shopping, prepping, cooking, storing, eating and wasting over whelms all of us. I want to make your life easier by providing some simple tips plus a great tool for you.
TIPS:
By planning ahead, you will save yourself multiple trips to the store which means you are saving loads of time plus gas money! You will also save yourself from the most dreaded question we hear every day: "What's For Dinner?"
Plan a weekly menu – this should be 3-5 breakfasts, lunches and dinners per week. You can get a weeks worth of breakfasts out of a box of cereal or a dozen eggs plus fruit, milk and juice. Lunches can be as simple as sandwiches, pre prepared boxes or dinner left overs. Dinner is usually a bit more involved with cooking but again, there's usually a couple of nights you can do left overs and maybe one night going out or ordering in dinner for the family.
After you have your menu for the week, make a list of all the ingredients you will need to complete the meal. For example, if you are making spaghetti, you will want to put pasta, sauce, spices, garlic, onion and maybe ground beef or turkey on your list. If you are serving it with a salad, make sure you get lettuce, tomatoes and salad dressing.
I recommend doubling or tripling your recipes. When you have time to cook, cook twice or three times as much, freeze the extra and label it well using tape and a marker. This way you will always have something ready to defrost/ reheat when you are short on time.
Let the family help: Your kids and spouse can help pack their own snacks and lunches for the next day. They can also help set the table and clean up after wards.
TOOLS:
A great time saving tool is to use your crock pot. Assemble all of your items in your crock pot in the morning, set it on low and when you get home – WALAH! DINNER IS READY!
Purchase the Simply Organized handy Grocery List and Menu Planner: www.simplyorganizedyou.com/resources
Chore chart for your kids: can be purchased at Target, Bed Bath and Beyond, Walmart or download one at: http://www.parents.com/kids/discipline/rewards/downloadable-chore-charts/
All of these tips and tools will save you time, money and energy! If you need help with your time or space, please call us at 404-825-2105 or e-mail heather@simplyorganizedyou.com
For lots more tips and tools, buy my book A Simplified Life at www.simplyorganizedyou.com/book.