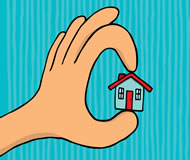 You may be nowhere near retirement age or ready to move into a smaller home or assisted living yet but that doesn't mean you can't start downsizing now! I taught a class on Monday at the ALTA independent living apartments in John's Creek on downsizing. My group of "students" were all people who had already downsized into an apartment but know one day they may have to live in a smaller space.
The worst experiences I have witnessed with clients are when they are rushed. I've been given one week to whittle 55 years worth of prized possessions down to a small enough amount to fit into a 500 square foot room. Or one day to pack up an entire house so it would look decent enough to list it for sale.
Even though my clients were appreciative, they were left feeling like maybe they got rid of something they wanted. Instead of waiting until you "have" to why not take your time so you can do what you "want" to.
Here are my tips to a successful downsizing experience:
1. Where do you want to live? Independent /Assisted Living, with a family member, etc.
2. Hire Real Estate Agent to sell home
3. How much square footage do you have in your future home/ what can you take?
4. De-clutter and Sort
a. Donate
i. Goodwill (will take everything but mattresses – many locations)
ii. Truck to pick up: www.donationtown.org or – Pat's Place: 770-873-6058
b. Sell
i. Ebay (under 25 lbs.): 855-322-9826
ii. Estate Sale: Charleen Tittle 404-451-2295
c. Trash
i. Shred company: A-1 877-747-3319
ii. Removal: Just Trash IT 770-399-6605
5. Moving Companies
a. Atlanta Peach: 770-447-5121
b. McGregor: 404-630-9042
6. Pack
a. Make sure you take your most precious photos and important items
b. Don't over crowd your new space
c. Do not rent a storage unit (you will spend the same amount of money in one year of rent as it would cost to replace all of the items in storage)
7. Un-Pack – Getting settled in your new home
a. Creative Use of Space
i. Use your vertical space
1. Bookshelves
2. Hooks
3. vertical wall pockets
ii. Doors
1. Inside closet doors – hanging shoe/ clear pockets
2. Inside cabinet doors – kitchen and bathroom
3. Behind office, bedroom and bathroom doors
iii. Under the bed
1. Bags (and space bags)
2. Boxes
Call me for help with any or all of the above Heather 404-825-2105 heather@simplyorganizedyou.com