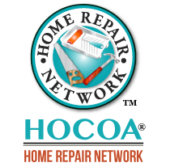 I call Mark Madans at HOCOA Home Repair Network at least once a week for help with our clients' homes. He has a list of vetted experienced contractors, cleaners, carpet and hardwood flooring, painters and handymen ready to come to your home and help you.
What to Consider  When Choosing Contractors 
When you need help with home repairs, finding reputable contractors, handymen, painters, plumbers, or electricians can be a headache. Using a trusted company that already has connections with qualified providers can be a lifesaver. There is never a convenient time for things to break in, on, or around your home, but when they do, most homeowners, do not want to spend time searching online or flipping through directories to find the right contractors for the job. And you don't want to wind up with poor workmanship or an incomplete project.
So, how do you get it done right the first time, and save yourself some time, money, and headaches?
Hire only insured providers who have been vetted by a third party.
Get a detailed written estimate prior to starting the project. Estimates should be specific  about the scope of the project, materials to be used (including colors or brands), clean up, expected completion date, and payment schedule. Legitimate contractors will happily create the written estimate because it protects them as well.
Communicate in writing and summarize phone conversations via a follow-up email to ensure you and the contractor are on the same page.
Review all work to ensure it is completed to your satisfaction prior to making the final payment.
Imagine making one phone call and finding a qualified, reputable contractor for any home repair need you have. No more searching the Yellow Pages. No more hopeful calls to friends. No more Facebook blasts. No more reading reviews, hoping they're real. Get trusted contractors quickly and easily with HOCOA—The Home Repair Network—and get your project off to a great start. HOCOA provides you with insured, qualified contractors for all your home repair, maintenance, and improvement needs.  Check them out at www.HomeRepairNetwork.com. 
If you need a project manager to help you schedule those repair men and make sure they are staying on schedule and on budget, Simply Organized can help you. Contact us at  404-825-2105 or heather@simplyorganizedyou.com.