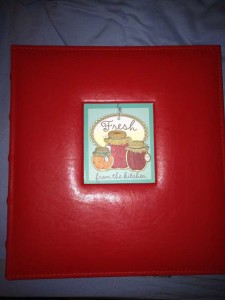 So today was a very icy day in Cumming, GA – no power, no TV, no internet, etc. I've been wanting to get my recipes in order for years and my husband gave me this beautiful recipe book for Christmas.  I took pictures of my progress so maybe this will be a helpful project for you to tackle someday.
I decided to go the paper route. You can certainly scan or copy your recipes onto your computer so you can have them electronically.  We did this years ago for my mom's recipes and made her a printed book for a gift and CD's for all of her children to have.  Now we can easily e-mail them or print them out if needed.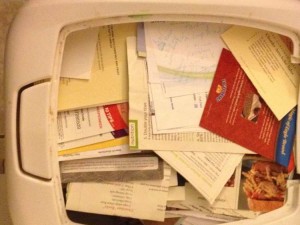 1. Throw away all those recipes you've had for years and never used. You can always look something up online.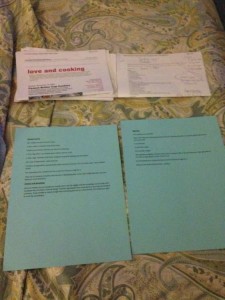 2. Organize the recipes you want to keep into categories that make sense to you. "Appetizers", Soups and Salads", "Main Dishes", "Desserts", "Breads", etc.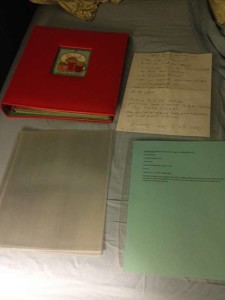 3. Either use a pre-made book like the one in the photo above or get a 3-ring binder. With either option you are going to want 81/2 x 11 sheet protectors and or 4×6 photo or recipe card holder pages to insert your recipes.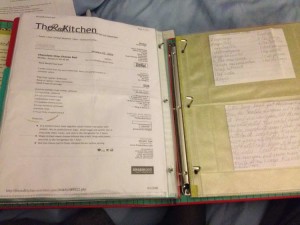 4. Simple way = place your recipes into sheet protectors /More difficult (but prettier) = type or write all of your recipes onto the same type card (index or recipe cards) and then insert into 4×6 card holder pages. The book my husband gave me already had blank recipe cards and recipe card holder pages in it.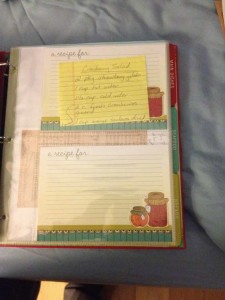 5. After you've inserted all recipes into sheet protectors, place them into your book or binder by category. If using a 3-ring binder, use tabbed sheets in between categories and label them "Appetizer", etc.
Wahlaa – in about 1 hour, you should have all your recipes in one book, organized by category and easy to use anytime you're in the mood to cook.
Enjoy!
If you would like my help in your home or business, please contact me at 404-825-2105 or Heather@Simplyorganizedyou.com