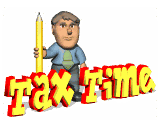 What – it's time to do taxes again? Start now and the looming April 15th deadline won't be so scary!
Here is a link to the tax prep 101 blog post I wrote last year for you to refer to: http://simplyorganizedyou.com/tax-prep-101/
This year, I'm going to focus on donations. Donating your household items is a great way to maximize your tax deductions and lower the amount you owe (or increase your refund). Let's not forget, it's also a great way to get rid of clutter while doing a good deed.
There are lots of places to donate your stuff.  Goodwill makes it very easy by having hundreds of convenient locations all around metro Atlanta (I have 5 within 15 miles of my home in Cumming). There are also other charities that accept items like the Humane Society Thrift Stores, Salvation Army stores, etc.
Do you need someone to pick up your clothes, household items or furniture? www.donationtown.org is a great site to help you find a local charity and schedule a truck. They work with Salvation Army, Kidney Fund, VA and many more. For furniture, most places prefer it to not be scratched or stained. The one item most charities will not take is mattresses.
In 2013 there was one change you should be aware of regarding donations to Goodwill. They set up a new system where you go online to input your deductions. If you donated anything to Goodwill in 2013 (or if I did it for you) you should have a receipt with a number at the top. Go to this site to input your itemized donations: http://www.goodwill.org/#. Click on "sign in" and register an account.
If you need to find out how much the items you donated are worth, this site will help you with values: http://www.goodwill.org/wp-content/uploads/2010/12/Donation_Valuation_Guide.pdf. This guide is useful for any items you've donated even if they weren't given to Goodwill but always get a receipt no matter where you go.
If you prefer to consign or sell your stuff, give me a call and I'll point you in the right direction:
404-825-2105 or Heather@SimplyOrganizedYou.com