Three years ago, my parents remodeled their 1974 home. They left one space off the list – the garage. My dad asked his contractor to put the old kitchen cabinets in his garage so he could use them someday. We have been asking him when he's going to remodel his garage for three years.
Two weeks ago (while my parents were out of town) my brothers, husband and I decided to tackle dad's garage project as a surprise father's day gift. My parents came home yesterday to an updated organized garage. I'm excited to report that both of my parents love what we did (trust me – we were nervous) and I'm also pleased to be able to show you the before and after photos along with some tips on how you can make this happen for your own space.
If you've read my blogs before, you know there is a way to organize every space and we used the same methods for my dad's garage as we would for any room:
1. Take all items out and sort them with like items (yard tools together, power tools, cleaning supplies, auto supplies, nails, screws, etc. My parents also keep camping chairs, paper towels, extra lumber, folding tables and lots of coolers in their garage.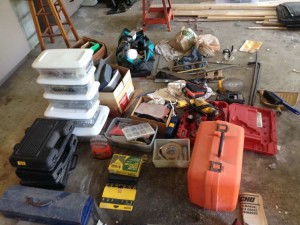 2. Get rid of anything that is broken, hasn't been used in years and multiples. My dad is a saver so this was difficult. I threw away and or donated his broken weed eater (he had 2), a recalled de-humidifier, an old leather chair, 2 old kid's car seats, Styrofoam coolers and several empty cardboard boxes and plastic containers.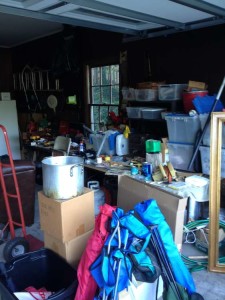 3. We hired a painter to paint the walls, cabinets and ceiling.  As you can see in the photos, they started with dark paneling so lightening up the space was a must. I ordered new cabinet hardware online to update and refresh the old cabinets.
4. My brothers and husband are very handy so they built a countertop for the lower cabinets and installed peg board. They also ran (plug in) lighting and added two power strips to make electrical access easier for tools. On the walls, they added inexpensive hooks to hang ladders, power yard tools and a hanging strip for the rakes and shovels.  I bought three new shelves and put them together (very easy) for the bulky items that would not fit into cabinets.
5. When we started putting all of my father's stuff back into the garage, we made sure everything had a proper home and all like items were together. For instance, all of his screws and nails are in clear plastic containers inside the same cabinet. Also in that cabinet are nuts and bolts. In a lower cabinet we put cans of paint. On the shelving, we got larger clear plastic bins to house auto supplies like oil, anti freeze, and oil funnel.  In a different container we placed all the gardening supplies.
6. You may need to relocate some items that don't belong in the space. We put their folding table in their basement and a large picture frame in their storage closet inside.
***It's important to note that this process is about finding the right amount and size space for the particular items. You may need to move some items around a few times in order to find the perfect spot.
Now you can see there is enough room in the garage for all of my parents items and to park two cars.  More importantly, the garage  is now a space that is functional and my dad will want to work there.  It also matches the remodeled inside of their home.
WANT TO GIVE A GREAT GIFT? BUY A GIFT CERTIFICATE FOR SIMPLY ORGANIZED!
If you would like help with your garage or any space in your home, please contact us at 404-825-2105 or heather@simplyorganizedyou.com.