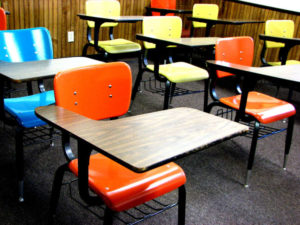 1. SHOPPING
SCHOOL SUPPLIES:
Most schools have the list posted online for each grade. This year I've seen local lists at Target stores too. You can also buy "packs" from most schools which include all needed supplies. I recommend you print out your list and shop at home first. You probably have tons of paper, pencils and more left over from last year. Gather everything on the list into one place and check those items off. The rest can be purchased at any retail store and most have great deals right now. (ex. Crayons, Ziplock bags, glue, scissors, folders, paper, pencils)
DON'T MISS THE TAX FREE WEEKEND
Georgia Back to School Sales Tax Holiday 2016 for Clothing, Computers, and School Supplies July 30, 2016 through July 31, 2016:
Clothing and Footwear < $100: Clothing and footwear, no sales tax unless item is over $100. 
Computers and Computer related items < $1000: Computers, computer components, and prewritten computer software purchased for noncommercial home or personal use with a price $1,000 or less. 
School supplies > $20: School supplies, school art supplies, school computer supplies, and school instructional materials purchased for noncommercial use costing $20 or less.
CLOTHES:
Make time to have your children try on the clothes and shoes they wore last year to see what fits. For the first couple of months (at least in the south) they can probably stay in their summer clothes but go ahead and make a list of their fall and winter wardrobe needs now.
(ex. NEED Shirts: short sleeved #4, long sleeved #4, pants #5, shoes #1, socks #5)
2. SCHEDULE/ ROUTINE:
DOWNLOAD A FREEE BLANK SCHEDULE & TO-DO LIST ON OUR WEBSITE:
http://simplyorganizedyou.com/resources/
FAMILY CALENDAR:
You should have a dry erase, paper or electronic shared calendar for your family. Each member should have their own color. Place all activities on the calendar including after school, trips, sleep overs, teacher meetings and weekend plans.
ROUTINE
Even if every day is a little different, families thrive on schedules. Have a PLAN B for days with after school activities and a PLAN C for weekends. To combat confusion and set expectations, use the following daily routines:
Wake up time (ex. 6:30am) eat breakfast, get dressed, brush teeth
Out the door time (ex. no later than 7:30 am)
Home work time (after school ex. 3:30-4:30) play time, chores
Dinner time (ex. 6:30 pm) then game or tv, bath, brush teeth, read story
Bed time (ex. 8 pm)
3. ORGANIZATION
A place for everything and everything in it's place – right? Start these good habits with your family now and it will save you time and stress later.
DROP ZONE
Every person in your family should have their own hook and or basket near the entry and exit of your home. Even if you do not have a mud room, you can easily create this area around a storage bench, breakfast room, laundry room or garage. This is also a great place to put a family calendar.
Each night before bed: all homework is completed and put into backpacks near the exit. Make lunches (or let your kids do it), snacks and even breakfast the night before and have it in the fridge ready to go. Lay out your children's clothes (or have them do it) the night before. Keep their shoes in their closets with their clothes or in a storage bench or basket near the door. Use a charging station for all phones, laptops, etc. and plus them in before you go to bed. Keep the charging station near your keys. Do the same thing every day and you will not be frantically looking for your keys, phone, shoes and homework every morning before school.
4. CHORES
Kids love having a few responsibilities and they love helping mom and dad. Depending on the age and maturity of your child, most experts recommend you start adding 1-2 tasks each year starting when you feel they are ready. Most kids can start with making their bed, brushing their teeth and picking out their clothes. When you think they are ready, add setting the table, clearing the dishes, unloading the dish washer and making their own lunch to their daily or weekly chore chart. This makes them feel proud and helps you out at the same time.
Back to School should be a fun time. It's a fresh start and a new beginning for you and your kids. Try to get the task completed early so you can enjoy it!
If you need any help with organizing your home or your time, please contact Simply Organized at 404-825-2105 or email us at: heather@simplyorganizedyou.com